Second PitchTech innovation Contest

Batimatech 2018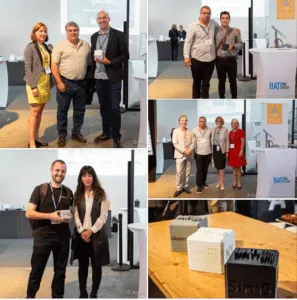 So many great applications for the PitchTech Innovation Batimatech 2018 Competition!
The jury had a lot to do to identify the winners of the Competition among the 10 finalists who presented their projects at Batimatech on September 18 at the SAT in Montreal.
It is with great pleasure that we present the winners of PitchTech Innovation Construction 2018.
PRICE 1 of MIPIM PROPTECH NEW YORK
Participation in MIPIM PropTech 2018, on November 6 in New York
Winner: UBIOS
PRICE 2 of CITY OF MONTREAL
Participation in the SUMMIT 2018 WEB SUMMIT, from 5 to 7 November in Lisbon
Winner: Pharonyx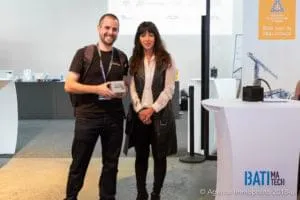 SIM5 PRICE 3
Support by SIM5 (digital strategy, communication and business development)
Winners: Mechasys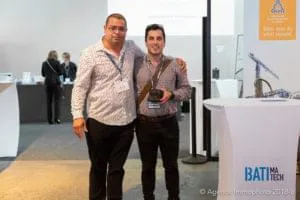 PRIZE 4 Favourite JURY products (Anges Québec)
Winner: Archidata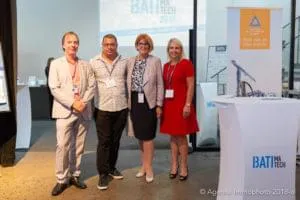 Congratulations!
THE BATIMATECH TEAM IS HONORED TO ANNOUNCE THE PITCHTECH CONSTRUCTION AND INNOVATION COMPETITION BATIMATECH

THE PURPOSE OF THE COMPETITION IS TO REWARD AND PROMOTE INNOVATION IN THE BUILDING SECTOR BY CREATING OR SIGNIFICANTLY IMPROVING A PRODUCT OR SERVICE (TECHNOLOGY AND SUSTAINABLE DEVELOPMENT)

Location of the competition PitchTech Innovation Batimatech 
18 septembre 2018 – Montréal


The members of the Batimatech 2018 jury
Andrée-Ann Lavoie – Cogela
Geneviève Vincent – Constructo
Simon Brunet, Pomerleau
Johanne Royer, Gaudi Stratégies
Andrée De Serres, Ivanhoe Cambridge Chair in Real Estate, ESG UQAM
Manon Desmarais, Anges Québec
François Bédard, Plan B Development

THIS AWARD MIPIM PROPTECH NEW YORK WILL OFFER TWO FREE REGISTRATIONS
AT THE MIPIM PROPTECH 2018 EVENT ON NOVEMBER 6 IN NEW YORK,
AND ONE NIGHT'S ACCOMMODATION IN A HOTEL NOT FAR FROM THE METROPOLITAN PAVILION.
This price as a value of 1 000 $US.
MIPIM PROPTECH NEW YORK price regulations:
A company offering a product or service for commercial, office or industrial real estate.
Market the product or service for more than one year.
Already have a client to his credit.
Utility of the service/product to support the company to be more efficient
–
 
The prize would consist of: Participating in the Web Summit 2018 as part of the City of Montreal delegation
2nd prize PitchTech de Batimatech in collaboration with Ville de Montréal will bring the winner to Lisbon for the Web Summit with a delegation from the City
This price as a value of 1 300 $CA.
The package includes the following services:
• Passes giving access to the exhibition hall, conferences, workshops and participants' database (value of $1,300);
• Site visit by a Web Summit representative and invitations to networking activities to connect with investors and other entrepreneurs;
• Support from a commercial attaché of the Réseau des représentations à l'étranger du Québec to establish meetings with potential partners according to your mission objectives;
• Preparatory training and follow-up carried out by the firm GoExport as well as a pre-mission activity with the City's Economic Development Department.
Airfare, accommodation and meals are not included in this package. Each participating company is responsible for making its own flight and hotel reservations.
If the winner is between the ages of 18 and 35, he or she will have the opportunity to apply for an international mobility grant offered by LOJIQ – Les Offices jeunesse internationaux du Québec.
ELIGIBILITY REQUIREMENTS
– Be legally constituted and registered in the Quebec Business Register
– Company with 5 years or less of existence and sales in the last year
– Have its head office in the Greater Montreal Area
– Team working full time on the company
– Propose an innovative product or service using digital technologies
– Be available to participate in the Web Summit from November 5 to 7, 2018 and ready to participate in the activities of the delegation organized by the City of Montreal as well as in a short survey upon your return
– Be prepared to cover other expenses related to travel (airfare, accommodation and meals)
– the relevance of your participation to the objectives of
your company;
– the potential for traction with investors and customers;
– the potential for international success.
–

Support of the winners by SIM5 (3 months period):
1.  Marketing and business development strategy
2. Communication and social network strategy
3. Training and workshops with professionals and partners
This price as a value of 1 000 $CA.
ELIGIBILITY
– Present a product or service in the public marketing phase for less than 3 years
– Include a technological and sustainable development component
– Expect significant revenue growth for the innovative product or service
– Be incorporated and have a place of business in Quebec
– Have submitted your application before the deadline

Presentaion the 18 of september, 2018 – Montréal
Schedule
At the latest, 15 of July 2018 at 18 h 00  
Deadline for submission of applications (we have changed the deadline because since June 13, the City of Montreal, Constructo and MIPIM PROPTECH NEW YORK have joined the competition.)
 
At the latest, 27 of July 2018  at 18 h 00
Delivery of visual aids (Video pitch from 60 to 90 seconds and/or PowerPoint)
week of the 27 of August 2018          
Announcement of the eight (12) finalists and the jury
 
3 september 2018
Provision of visual aids (PowerPoint or PDF) – max 5 pages
 
18 september 2018          
Presentations at Batimatech 2018
 
PRESENTATION AT THE BATIMATECH CONFERENCE ON SEPTEMBER 18, 2018
– Before the public and jury
– Duration of 3 minutes maximum
– Jury Question Period (3 minutes)
– Score awarded by the jury and the publicationc

FILL IN THE REGISTRATION FORM FOR THE PITCHTECH COMPETITION
For more information, contact M.Francis Bissonnette at  514 238-4664 or