Construction – Technologies – Sustainable development
BATIMATECH
Batimatech is a non-profit organization (NPO) acting as a catalyst for the construction, technology and sustainability community whose mission is to foster innovation, collaboration, agility and integration of the best digital solutions in our business ecosystem and institutions.
---
8th Edition Grand Batimatech  |  September 26 & 27, 2023


 For all questions, for more detailed information, if you wish to be a: speaker / panelist / exhibitor or partner, in the PitchTech Innovation construction contest of the next edition of Batimatech, please contact us
514-840-1288 |

[email protected]
---

---
7th Edition Batimatech | September 26-27th, 2022
Digital Transformation & Collaboration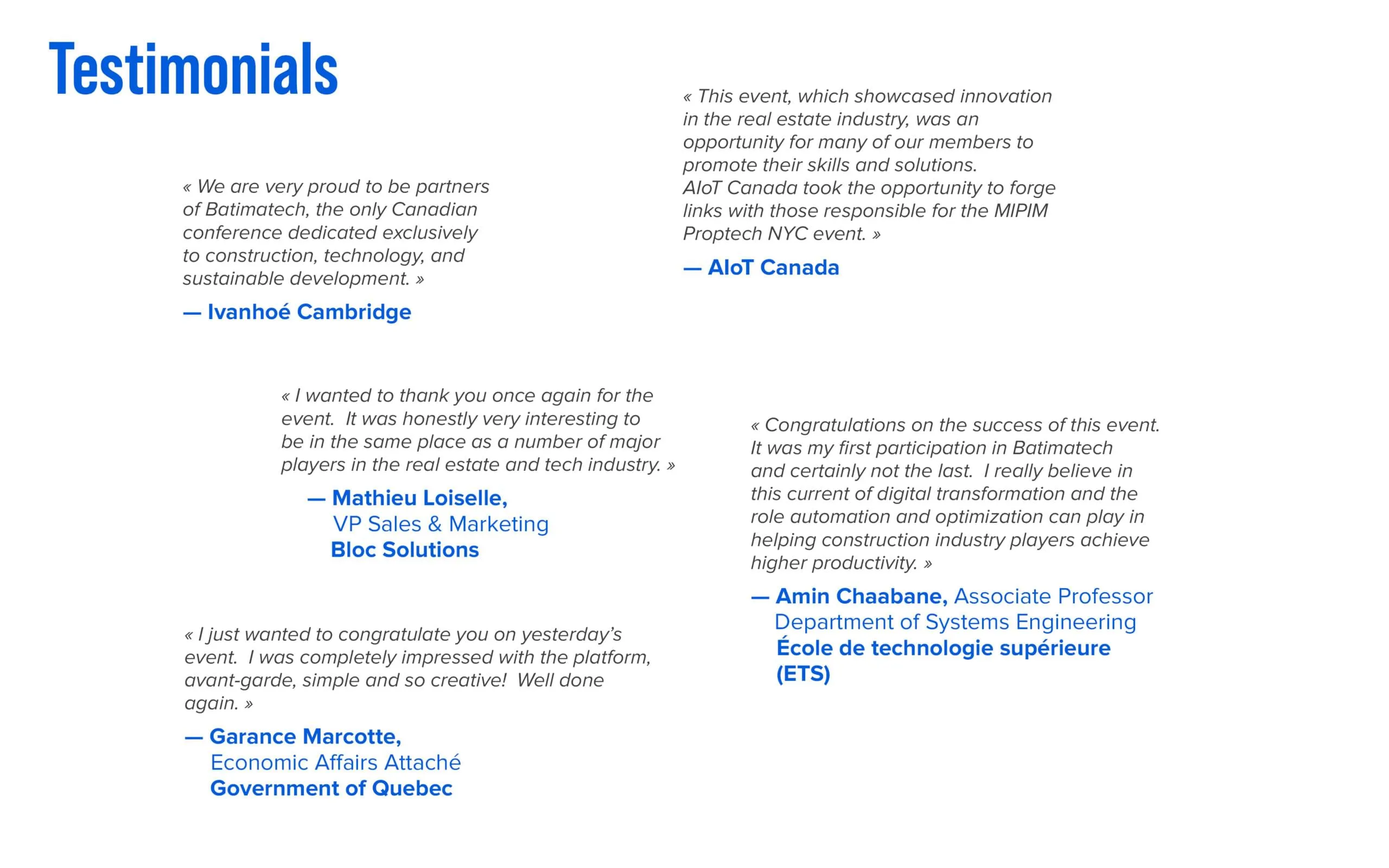 ---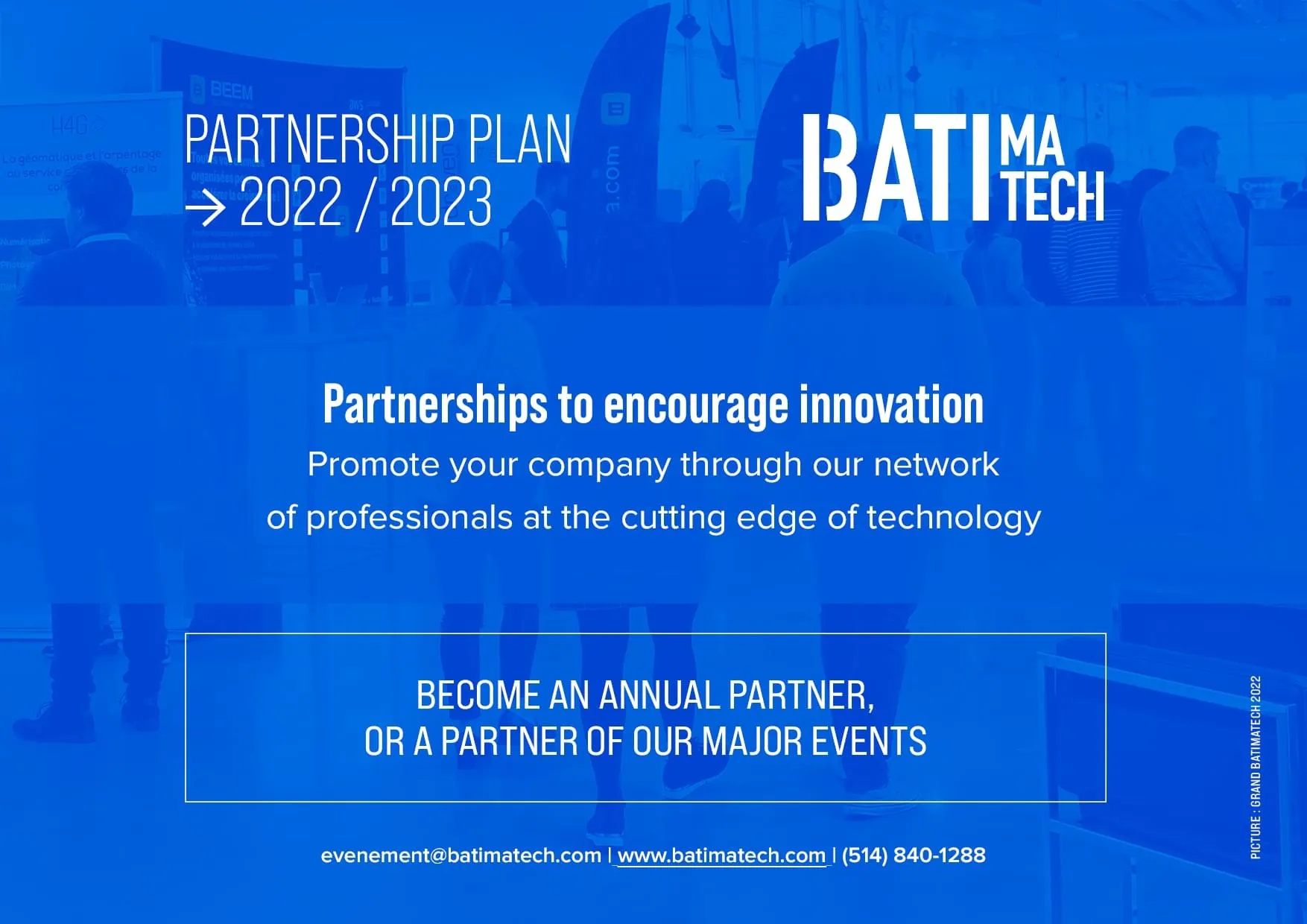 ---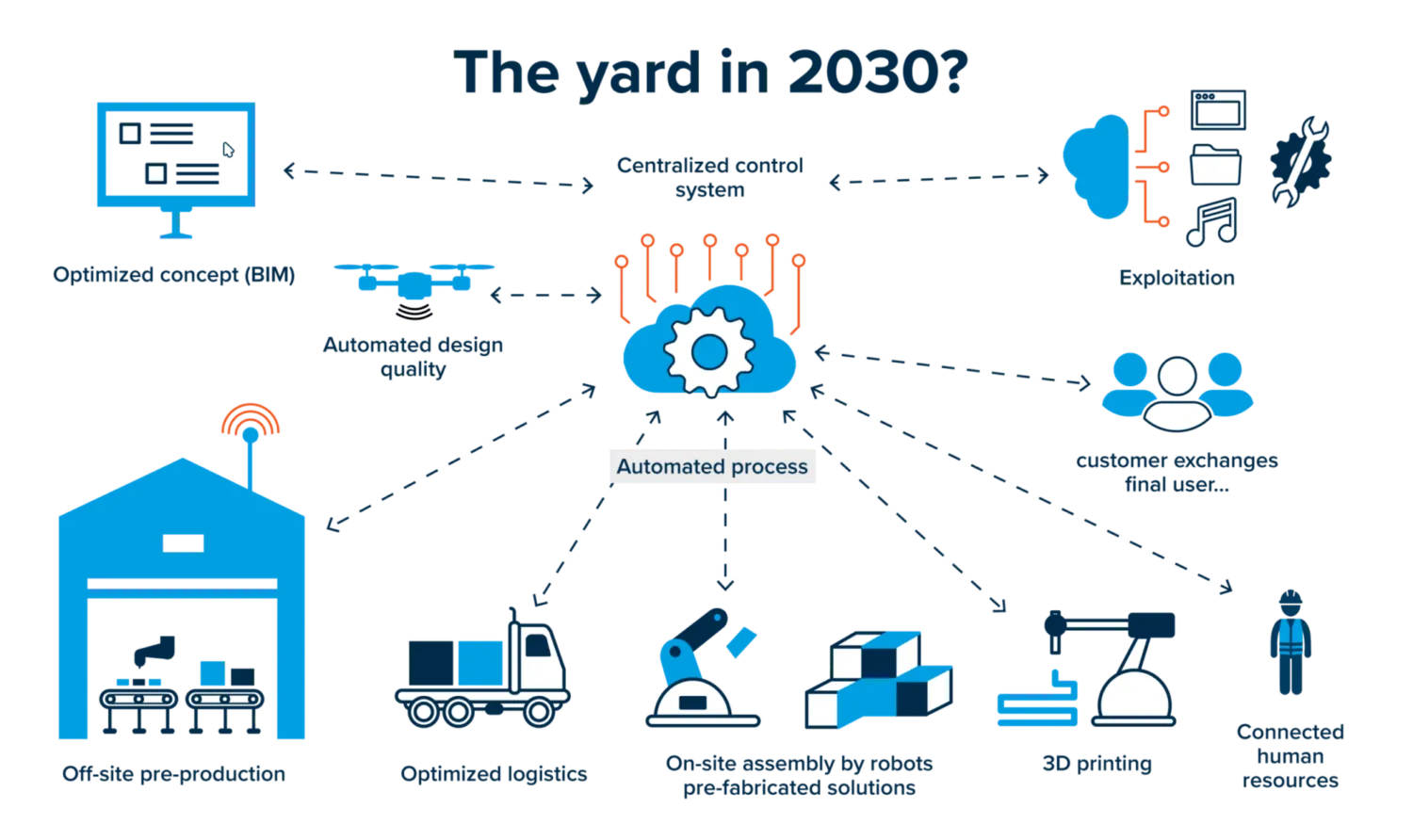 Source : The building site in 2030: The building site of the future according to Laure Ducoulombier, from the chair of construction 4.0 © F.L. for Batiactu
Who are the participants of Batimatech?
30% > architects – engineers – colleges and universities 30% > builders – developers – contractors – investors – associations 40% > software developers – manufacturers – researchers – designers
Batimatech, the technological meeting place for players in the construction, technology and sustainable development
*Batimatech conferences may be eligible for continuing education
---

Several advantages are offered to you with your Batimatech membership

---

Batimatech launches a major technological censusIn collaboration with the Ministry of Economy and Innovation , Batimatech has set up a census of technologies that will identify and highlight the technological solutions and innovative equipment available for the construction sector

---
Batimatech Training | Physical and Virtual
Virtual, hybrid and face-to-face personalized support and training in digital business transformation and sustainable business development Several Batimatech and Grand Batimatech training courses are recognized by the Régie du Bâtiment du Québec (RBQ), the Corporation of Master Pipe Mechanics of Quebec (CMMTQ) and the Corporation of Master Electricians of Quebec (CMEQ) as part of mandatory continuing education obligations.


---
WHY BatimaTech?
The contribution of technology constitutes a powerful vector of development. Technology is an ally in achieving profitability and competitiveness goals. The Batimatech conference offers an opportunity for exchange between various conference participants and representatives of companies in the construction industry, to express the importance of technology and sustainable development in their business practices.
THE BATIMATECH GRAND CONFERENCE WILL BE AT ITS 8th EDITION IN 2023
Number of participants (sold out)
Number of kiosks (sold out)
Satisfaction rate with conference content
Finalists in the PitchTech innovation contest
---
Construction – Technologies – Sustainable development
Become a speaker at Batimatech. Contact us: [email protected]
---
INNOVATION: A PRIORITY
Contact
Connect with industry leaders!
Batimatech is a non-profit organization. BATIMATECH is a catalyst for the construction, technology and sustainable development community whose mission is to foster innovation, collaboration, agility and the integration of the best digital solutions in our business ecosystem and institutions
---
Batimatech Office, 405 Ogilvy Avenue, Suite 101, Montreal, QC H3N 1M3
Free parking | Across from Métro Parc |BIXI self-service bicycles
Francis Bissonnette, MBA, President, Batimatech
405 Ogilvy Avenue Suite 101 Montreal, Quebec H3N 1M3