Construction - Technologies - Sustainable development
Batimatech 2019
–
17 september 2019
The theme: The future of construction today
9h00 – 17h00 & 5 – 7
PLACE OF BATIMATECH 2019
EN PRIMEUR: les thèmes de la 4ème grande conférence Batimatech 2019 portant sur «L'avenir de l'industrie de la construction aujourd'hui» qui aura lieu mardi 17 septembre 2019 dans Les Studios des 7 Doigts à Montréal.
Les thèmes conçus pour vous:
Mipim – Le futur de l'immobilier

La technologie de rupture
Pourquoi il est urgent de s'adapter et intégrer les nouvelles technologies d'ici 2025?
La numérisation 3D au service de l'architecture et du manufacturier
La Recette du développement durable dans la construction
Bâtiment intelligent – Smart Building – Ça veut dire quoi (ressemble à quoi) maintenant et en 2025
BIM et Réalité Virtuelle
La coordination à l'ère du numérique chez les entrepreneurs généraux et les entrepreneurs spécialisés
LIEU DE BATIMATECH 2019
Les Studios des 7 Doigts

BATIMATECH C'EST QUOI ?
Why Batimatech ?
The contribution of technologies is a powerful vector for development. Technologies are proving to be allies in achieving profitability and competitiveness objectives. The Batimatech conference is precisely an opportunity for exchanges with various conference participants, representatives of construction companies who express the importance of technologies and sustainable development in their business practices
Review of the 2018 edition
LA GRANDE CONFÉRENCE BATIMATECH SERA À SA 4e ÉDITION EN 2019
Number of participants (full)
Participation in the next edition
Nombre de kiosques (complet)
Participants in the PitchTech innovation contest
Builders... wake up to the digital age !
–
PROGRAM 2018 BATIMATECH EVENT FORMULA *
The Batimatech 2019 event will also present several panels that will address various themes: like the futur of today's constructions
Make yourself noticed!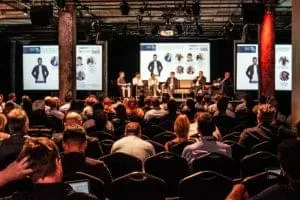 In addition to multiplying business meetings, your sponsorship
will ensure visibility in the media used to promote Batimatech.
Become a partner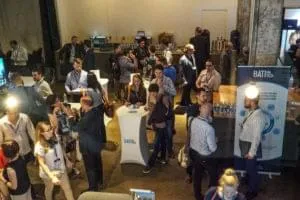 Stay tuned, the panel unveiling will come soon!  Do you have any questions?  Do you want to be a speaker? Do you want to be Become a partner 2019 ?
Contact-Us !
Francis Bissonnette, info@batimatech.com  514-238-4664
Qui sont les participants de Batimatech
30% architectes – ingénieurs – établissements collégiaux et universitaires
30% constructeurs – promoteurs – entrepreneurs -investisseurs – associations
40% développeurs de logiciels – fabricants- chercheurs -designers
Batimatech, le rendez-vous technologique pour les acteurs du secteur de la construction, des technologies et du développement durable

*Les conférences Batimatech peuvent être admissible à la formation continue

Vos Conférenciers/Conférencières
Stephane Chouinard, Gérant de projets principal, Développement Québec, Ivanhoé Cambridge
Filipo Rean, Directeur de la division immobilier, Reed MIDEM
Marc A.Bovet, Fondateur et Président BONE Structure
Martin Lavoie, Co-fondateur de Créadditive
Marc Vezina, Directeur des biens de consommation et de la construction, Ministère de l'Économie et de l'Innovation, Québec
Cyril Thiriot, Président, Smart Lighting Alliance international
Mélanie Pitre, Directrice développement durable, Ædifica
Robert Meunier, Président, Maestro Technologies
Geneviève Crête,  Associée déléguée, Chargée de projet  principale, CIMA+
Lieu Dao, Gérante innovations – R&D et projets spéciaux, Pomerleau
Simon Brodeur, Conseiller pédagogique / Advisor ( BIM, CAO, Robotique) Cégep du vieux Montréal
Isabelle-Eve Poirier, Directrice de comptes principaux – Projets Majeurs, Johnson Control
William St-Pierre, Président, Mechasys
Louis-Philip Bolduc, PA LEED BD+CDirecteur construction, A+
Claude Labbée, Directeur du Département des dessins, Britton Électrique
Nicolas Croteau, Président, Béton Concept A.M.
Serge Cormier, Directeur, Gestion de projet et construction, Fonds immobilier de solidarité, FTQ
Richard Lapointe, Président, Archéomaticien M.A., Expertise laser 3D – iSCAN
Hugo Brizard, Président co-fondateur, Pharonyx
Rudy Abitbol, Directeur eCommerce, Lumen
Vincent Tardif, Directeur de projets, Groupe SCV
Stéphane Côté, Président DevMcGill, Président Développement Cogir
Joey Larouche, Président et cofondateur, 3L Innogénie et Upbrella
Jacques Gauthier, Vice-président au développement des affaires, Upbrella Construction
Alexandre Lacoursière, Associé et Vice-Président Ventes et Marketing, smartpixel
Construction - Technologies - Sustainable development
Become a speaker for Batimatech. Contact us: info@batimatech.com


Come and talk to the speakers!
Some Comments about Batimatech
Testimonials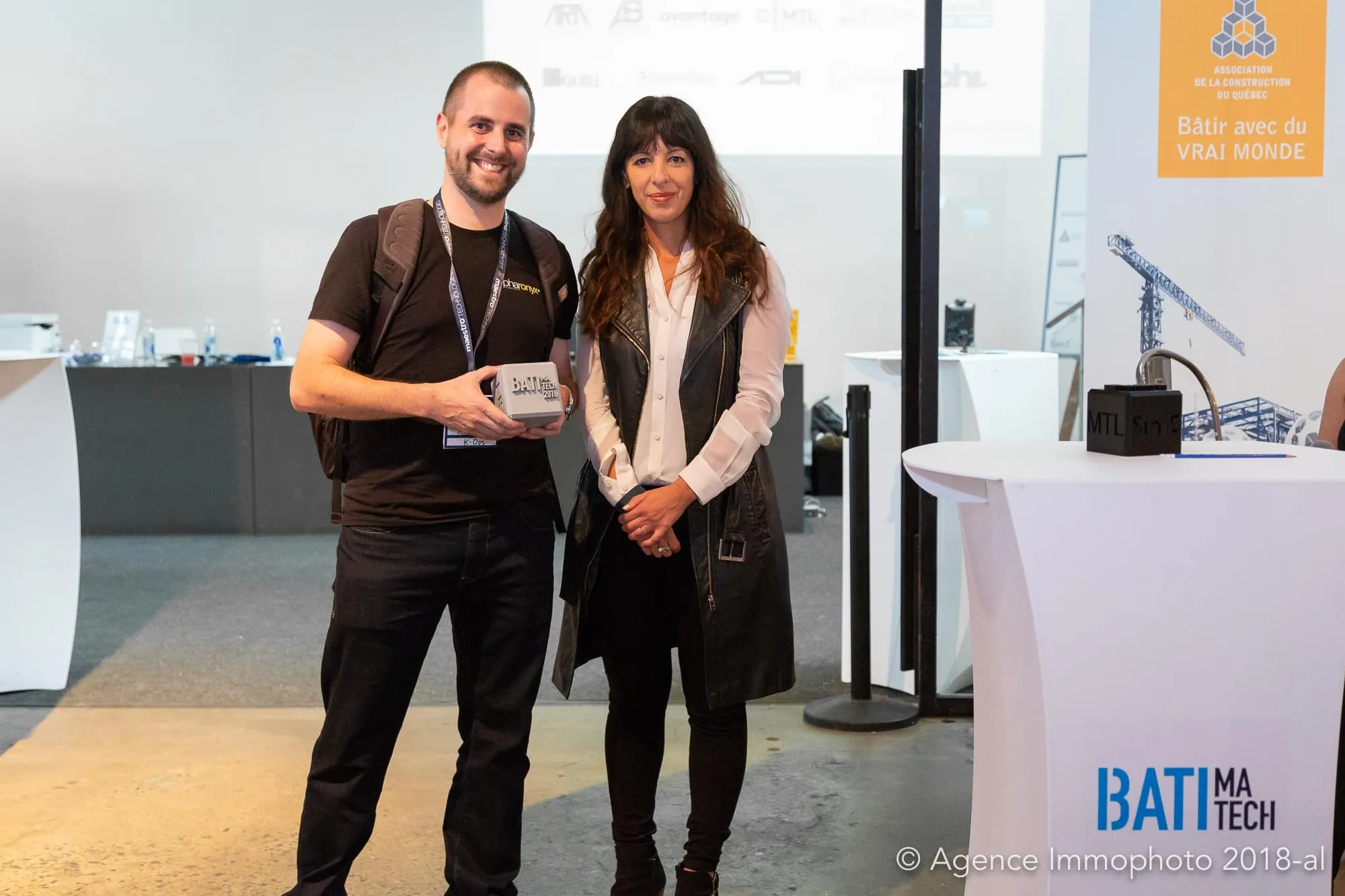 Hugo Brizard
CEO and Founder, Pharonyx
Very happy and proud to have won this prestigious award!
Very happy and proud to have won this prestigious award! Thanks to Francis Bissonnette, MBA and his team for organizing a great event where real issues have been addressed and concrete solutions have been proposed. Congratulations also to all the volunteers, exhibitors, speakers and panelists, PitchTech contestants as well as Matthieu Dugal for an outstanding animation. A huge thank you also to my team that surpasses every day to develop and deliver a product of exceptional quality!
Jeffrey L'Archevêque
Technology Guru, Network Selection
À l'an prochain!
Last week, I had the immense honor of participating in a panel on Smart Building, IoT and Cybersecurity at the Batimatech event. It was a memorable and very rewarding experience, as it was the first time I went on stage in front of several hundred people to share my vision of technologies in the world of real estate and construction. I thank my associates Jonathan Miljour, General Manager (Sunotech), Benoît Gagnon Vice President Information Technology and Advisory Services (Canadian Corps of Commissionaires), as well as our fantastic animator Matthieu Dugal. I would also like to acknowledge my enormous gratitude to Francis Bissonnette, founder of the event, for inviting me to the event. Thank you Francis, I think we have managed to bring down some dogmas of this fascinating world that are technologies. See you next year!
Jonathan Miljour
VP Technology & Innovation, Sunotech Canada Inc
What an Amazing day !
Bravo à Francis Bissonnette, MBA et à toute son équipe pour la belle journée hier à #batimatech2018 ! Ce fut une super journée. Vraiment intéressant d'entendre tous les acteurs du domaine de la construction parlés de leur vison de la technologie dans leur domaine. Bravo aussi à Matthieu Dugal qui a piloté le tout de main de maître. Un gros merci aussi à mes collaborateurs Benoît Gagnon et Jeffrey L'Archevêque! #iot #security #accesscontrol #saltosystems #electroniclock #elock

PlanHub
Best cellular package
A great success!
PlanHub is proud partners of the 2016 Batimatech events

Caroline Arnouk
CEO-OPA Technologies
The room is packed!
Thanks to Francis Bissonnette, MBA for giving me the opportunity to participate as a facilitator on the technology panel
Giovanni Guillabert
Expert en marketing web
Full Room !
Full room for the 1st edition of #Batimatech @ SIM5QC @ Consortech2013 @maestrotechinc @CRIM_ca #technologie

Rosalie Readman
Consultant in International Research / Innovation Partnerships
Congratulations !
An event under construction with #batimatech joint panels. What to make proud @OurDefenders #polqc
Maestro*Technologies
Construction Management Software
A success all the way!
Maestro * TECHNOLOGIES participated yesterday in the first edition of the Batimatech event! it was a success all the way! We are happy to have been able to contribute.

Francis Giguère
Expert in the business market
Franc Success!
I recently noticed that Francis Bissonnette is an outstanding event manager; it has indeed created an unprecedented activity in Quebec that has been successful: Batimatech, a moment of meeting and discussion between professionals and experts on ICT and the world of construction.
Clément Beauchesne, PMP
Directeur, Grands comptes, CORPIQ
A very interesting event
A very interesting event that brings the discussion around technologies in the construction industry. Congratulations to the Batimatech team and Francis Bissonnette, MBA!
CRIM
Montreal Computer Science Center
Great success !
Congratulations to Francis Bissonnette de Sim5 and all his collaborators, speakers and facilitators for the Batimatech 2016 conference
Mathieu Lachaîne
Founder of Ubios
Excellent initiative
Congratulations Francis Bissonnette, MBA, this is an excellent initiative. Moreover, after transportation, the building is the 2nd sector responsible for global warming. Sustainable development involves the integration of technologies, from construction to operation.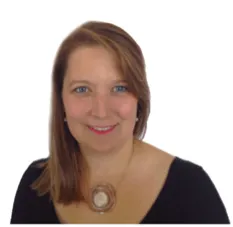 Annie Chantelois
Presidente & Co-Founder, Dreeven Technologies
Nice meeting
A very good experience yesterday at the Society for Arts and Technology where the Batimatech event took place! Beautiful encounters and beautiful testimonials on Dreeven Technologies inc! It makes sense when we can help and solve a problem in our industry! Thanks to Francis Bissonnette, MBA of SiM5 for this beautiful organization!
Benoît Gagnon
Vice President, Information Technology and Advisory Services, at Canadian Corps of Commissionaires of Quebec
Thank you Matthieu Dugal for the superb animation work. translations
Thank you Francis Bissonnette, responsible and founder of the event Batimatech, for the invitation. Thanks also to my "partners in crime" Jonathan Miljour and Jeffrey L'Archevêque for the conference. Thanks finally Matthieu Dugal for the superb animation work.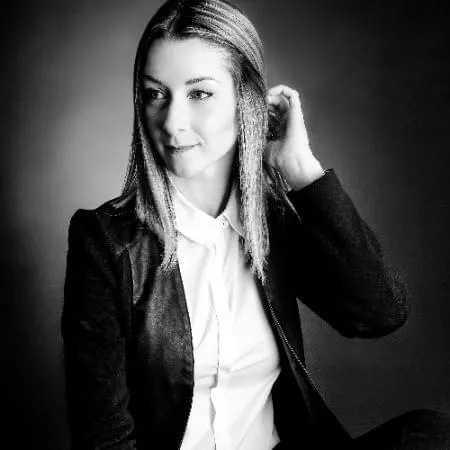 Vanessa Drolet
Business Development Director, COSOLTEC
A Success
Thank you Francis Bissonnette, MBA for making this event a success! It was very interesting!
Inscription Batimatech 2019
Innovation : A priority
Contact
Connect with industry leaders!
BATIMATECH is the lightning rod event of the construction and technology worlds. Its mission is to foster innovation, collaboration, agility and integration of the best digital solutions into our corporate ecosystem and institutions.
---
Batimatech 2108, 1201 Boul St-Laurent, Montréal, QC H2X 2S6
BIXI services
Francis Bissonnette, MBA, Fonder et producer Batimatech
405 Avenue Ogilvy #101
Montréal, Québec
H3N 1M3